Software Built for Waterjets
The WAZER waterjet is easy to run, and so is our free WAM software. With WAM, just tick the boxes to turn your designs into ready-to-cut files. WAM even tells you how long each cut will take, and how much abrasive will be used.
Go From Design to Cutting, Fast
Import Design File
Use any CAD or graphic design software. Save your design as a .dxf or .svg file and import into WAM.
Select Project Settings
Scale, rotate, and position your design. Select your material and choose a cut quality: coarse, medium or fine.
Transfer File to WAZER
Save your .gcode "Cut File" and transfer it to the WAZER machine with an SD Card.
HOW WAM SOFTWARE WORKS
Our WAM software turns your designs into WAZER cutting instructions. Just load your CAD design, select from the menu options, and start cutting. Watch this quick video to see for yourself.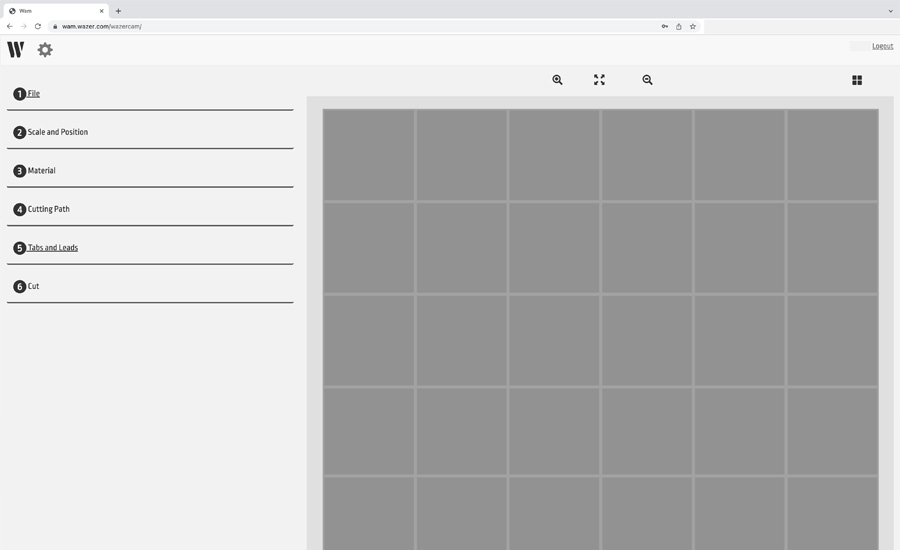 Cloud Based
WAM software runs in the browser, so you never need updates and can work on any computer, anywhere.
.svg and .dxf Compatible
Use your preferred graphic design or engineering CAD software to create .dxf or .svg files.
Then import into WAM.
Vast Material Library
WAM gets you cutting with a library of hundreds of material and thickness options. Each has WAZER-tested settings, calibrated and ready for immediate cutting.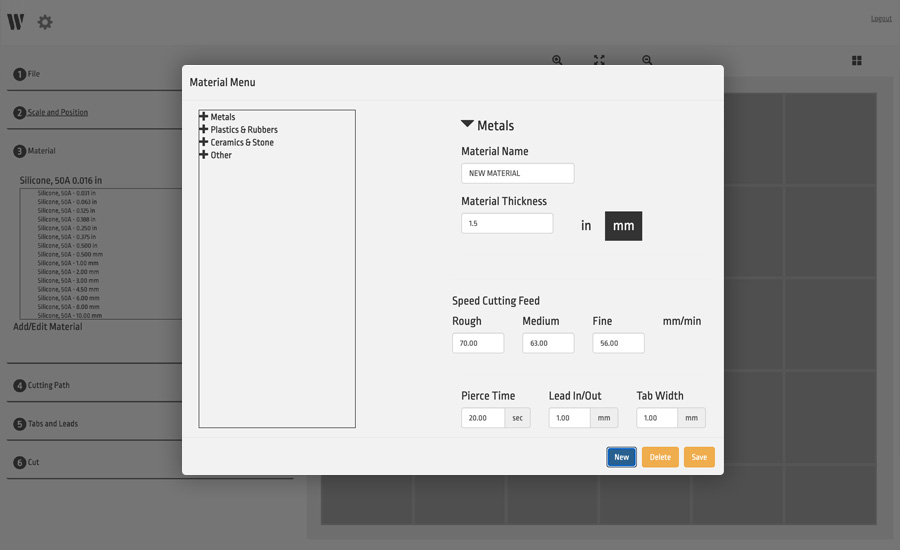 Add Your Own Materials
Easily add your own material or thickness using our protocol to find the right cut settings. Just because a material isn't listed, doesn't mean WAZER can't cut it!
Swiftly Go from Designing to Cutting
The WAM software outputs a .gcode file onto any SD card, and fits the WAZER machine SD input slot. Foolproof. No connectivity, cables or wifi needed to load data onto your WAZER.
WAZER Waterjet Runs Offline
Locate your WAZER wherever appropriate – no need for internet in your shop. Although WAM is in the cloud, the WAZER machine itself runs offline and unconnected to the internet.
CAD & Graphic Design Software Commonly Used with WAM:
Questions about WAM Software?